Red Carpet Fashion/Home Decor Mashup
I love using red carpet fashion as inspiration for my own dress-up outfits (though much, much less glamorous for my purposes). But what about bringing your favorite looks into your home decor?
The 2014 Golden Globes offered lots of great dresses and ideas, from black and white to bold and bright. Here are four dresses that inspired me to find these gorgeous interiors on Houzz. So why not take your home decor inspiration straight from the runway or red carpet?
Green Glam
Olivia Wilde really stole the show in this amazing Gucci sequin gown. It's rich sparkly color is dressed up, but not over the top. That's also what I love about the iridescent tiles in this bathroom. One accent wall of shimmery tiles makes an otherwise neutral bathroom feel special without overwhelming the small space.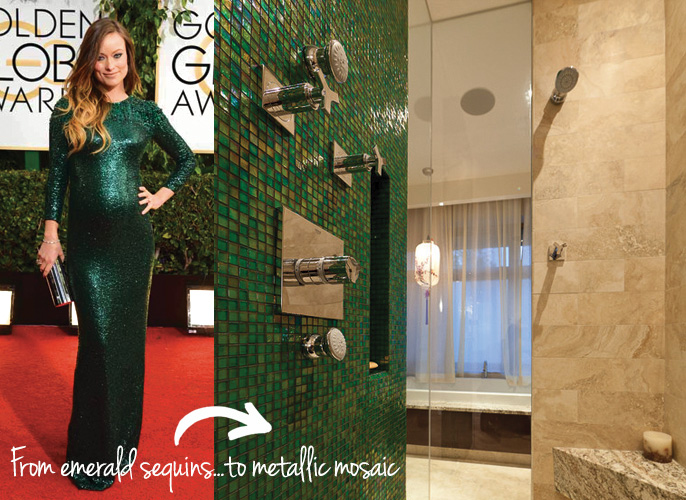 Bathroom design by Habitat Studio.
Timeless Black and Gold
Julianna Margulies could wear just about anything and look chic. I love this dress because it's crisp and elegant, but has an unexpected silhouette and just the right amount of embellishment. The understated glamour of the bedroom evokes the same feeling. It's a good mix of high contrast hard edges with spots of shine and plushness.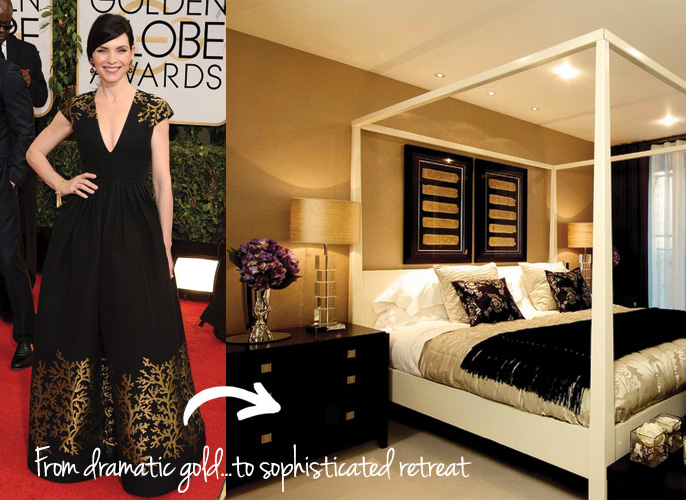 Bedroom design by Design-OD.
Retro Made Modern
Not all of the red carpet dresses were successful, but can offer inspiration just the same. Sandra Bullock looks a little awkward in this tea length gown, but I like the retro palette and geometric color blocking. A pink couch with bold patterned pillows gives color blocking a modern preppy update.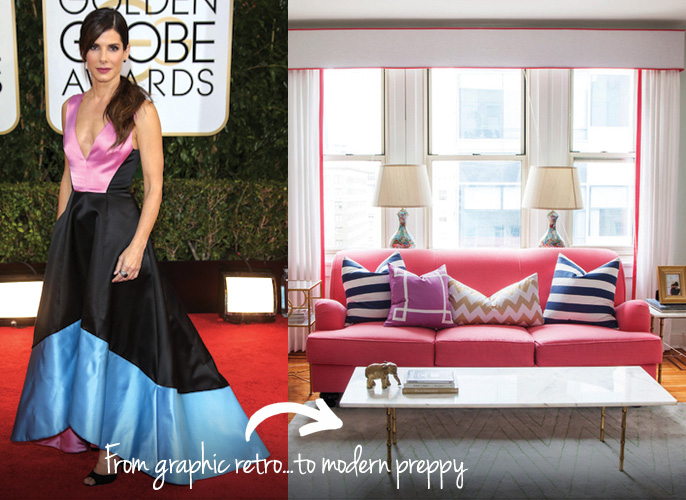 Living room design by Caitlin Wilson.
Red Rules
Stunning. Lupita Nyong'o nailed it with a Ralph Lauran sheath.  For me, this dress is all about the clean lines and the contrast between the dress and her skin. The color red is the star of this outfit. The same goes for this sleek kitchen. The dramatic backsplash seems to streak the color red across the space, highlighting the composition of the cabinets.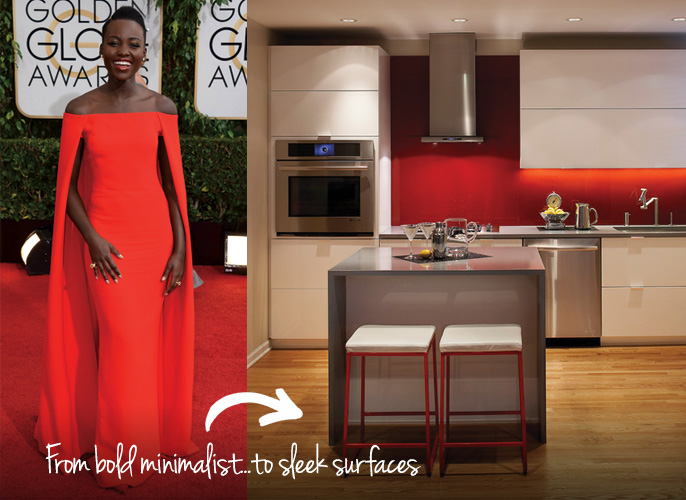 Kitchen design by Mahogany Builders.
Finding Inspiration
Don't limit yourself to home decor media when looking for inspiration for your space. If you have a passion for fashion, art, music, nature…anything really, then you have endless sources of awesomeness to draw from. Where do you find YOUR inspiration?
Check out these similar posts:
Mochi Home will rock your walls!
Get access to our printable artwork sizing templates. Be the first to learn about new wall art designs.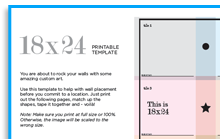 We hate spam just as much as you
New to Mochi Home?
Enter your details below for 10% off your first purchase!
You'll receive no more than two emails per week, and we hate spam just as much as you