Make Your Home a Party Place
The first of our 5 Easy Resolutions for the Home is to do more entertaining – ideally to the tune of once a month.Well, that sounds like a bit of a pain, you say. We've got you covered with some party and decorating ideas plus a few tips for cleaning. It's easy, really!
Pre-Party Clean-up
Aside from the obvious social benefits to hosting friends and family, regular soirees will force you to keep your clutter and dust in check. I can procrastinate for weeks when it comes to cleaning the guest bathroom, for example. But if I know people are coming over, I'll give it a quick scrub. Here's what I do before EVERY party, be it New Year's Eve or dinner with a friend (and in this order):
All over de-clutter, with a concentration on the common areas
Sort and shred the mail (of which there is always a pile on any given day)
Hit the bathrooms – toilets, sink, mirror and finally floor
Dust all rooms, from the ceiling down
Vacuum all rooms
Arrange and swap out decor, fluff pillows, open curtains, etc.
Lastly, a full kitchen clean from dishes to floor to putting away extra appliances
And finally, before guests arrive, I will have arranged any snacks and drinks, lit candles, set mood music, etc. Done!
Post-Party Clean-up
Basically, I repeat the full clean-up based on how much mess was made. Seriously, entertaining is THE best way to force a clean house.
Keep it Simple
If you are hosting guests monthly, don't over-think it. I have a few staple items that I rotate through different events to set the mood. These table stars from Crate and Barrel are my absolute favorite! Shiny metal stars in a pouch with a magnet for easy cleanup. It doesn't get any better than that. I've had these for at least 6 years (and if you know where I can find more, please let me know!)
Don't get fussy with snacks. You can make your party feel special without needless effort. Check it – hummus straight out of the tub. I put this on top of a black plate with some surrounding pita chips, and it was instantly transformed into an adult appetizer platter. (And don't those little stars look sexy?) Easy!
Keep Your Inventory Fresh (plus a freebie!)
I love using parties as an excuse to try new things and get rid of old things. I'm not saying you should serve your guests stale food, but if you have a bunch of napkins leftover from a summer BBQ, mix them in with some plain white napkins and use them for brunch. Regular entertaining keeps your party stock in constant rotation. This also works well with liquor, which tends to stick around if you don't intentionally use it.
A Template for You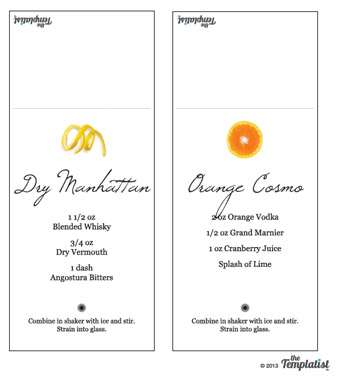 I like to make signature cocktail menu cards – it's a great way to try something new using something old.  I was pushing the gin and tequila, but it was fun finding new drink recipes to try. And these menu cards make the party feel really festive.
Make your own cocktail cards with this PDF template from our sister site, The Templatist. Use the cocktails as-is and simply print and fold. Or, you can type in your own recipes (download the fonts noted in the PDF file).
As far as I'm concerned, there's really no reason NOT to entertain more at this point.
Happy entertaining!
Check out these similar posts:
Mochi Home will rock your walls!
Get access to our printable artwork sizing templates. Be the first to learn about new wall art designs.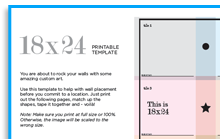 We hate spam just as much as you
New to Mochi Home?
Enter your details below for 10% off your first purchase!
You'll receive no more than two emails per week, and we hate spam just as much as you