Dreaming of Indoor/Outdoor Living
The last few weeks of summer are upon us and it has me dreaming of kicking back on a nice veranda with a glass of wine and a sunset view. So of course, I cruised over to my favorite decor site, Houzz and dug up some indoor/outdoor inspiration. Come, live vicariously with me!
This place is so slick, it looks fake! But, it's not. This is a true indoor/outdoor space in Australia. Hmm, maybe I'm living on the wrong continent!
Are you kidding me? Look at the view out of that little front window.
This is such a sweet little sun room – simple, but comfortable.
Of course you should put your home office in the sun room! If you're anything like me, you spend more time at your desk than curled up with a good book. So why waste a beautiful sunny spot for weekend lounging only.
I'm a sucker for outdoor curtains! This is such a friendly space with the plants and pastel accents.
Check out these similar posts:
Mochi Home will rock your walls!
Get access to our printable artwork sizing templates. Be the first to learn about new wall art designs.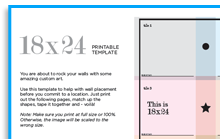 We hate spam just as much as you
New to Mochi Home?
Enter your details below for 10% off your first purchase!
You'll receive no more than two emails per week, and we hate spam just as much as you