Delivery and Turnaround
All wall art is delivered within the continental US for a flat fee of $15. Turnaround times vary depending on the product ordered and on the receipt of all custom text and images (as required).
If you provide us with your customizations at the time of purchase, you can expect a digital proof via email within 48 hours. After you approve the proof, your custom wall art will be printed and delivered in 5-7 days.
For example:
Day 1: You place your order AND include custom text at the time of order
Day 3 (48 hours later): You receive a digital proof AND you approve that proof on the same day.
Days 4-10: Your custom artwork is printed, shipped and delivered 5-7 days after approval.
Or, if you are  more visual: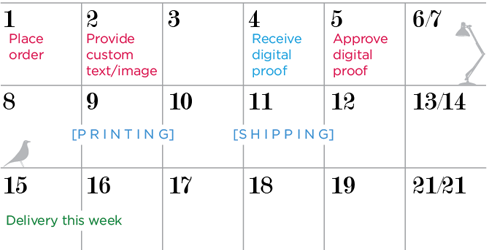 Digital Proofs
We offer digital proofs with all custom wall art.Digital proofs will be delivered via email 48 hours after you have both placed your order AND provided custom text and/or images. We require that you approve your proof before we begin printing your custom wall art. 
When checking your digital proof, you are looking for any typos or errors in the custom text or image.
Please remember that due to variations in monitors, we cannot guarantee that the colors of the digital proof will exactly match your printed art. We can, however, guarantee that you will love your printed art regardless, or we'll give you a full refund or reprint.
Cancellation/Refund policy
We offer a total satisfaction guarantee. You may return your wall art for a reprint or full refund for up to one year (365 days) after the purchase date. Wall art can be returned for any reason and we will do our best to fix the problem. Please contact us at info@mochihome.com with any questions.
We are people, too.
Mochi Home isn't staffed by robots or zombies, it's run by real people! Do you need something extra-customized? Are you in a big rush and need faster turnaround? Do you need some advice on where to hang your art? Just ask! We can help you with all of those things.
Our goal at Mochi Home is to help you achieve your own unique home decor nirvana. And yes, we are putting the "me" back in Home, one piece of custom wall art at a time.