Transforming a Room from Dark to Light
This reader has a charming home, with arched doorways, hardwood floors and a chair rail throughout the house. I particularly applaud the bold choice in color. The deep navy blue is at once dramatic and classic. However, our reader is ready for change and I say, let's bring this house into the light!
Here is the current room with deep navy walls and matching couch.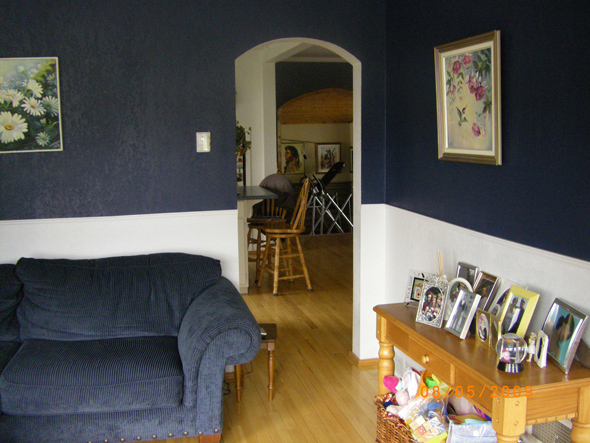 I think chair rails can be great. They are an easy way to introduce multiple colors onto one wall and also add a hint of architectural detail. I chose to leave the chair rails in place and take advantage of multiple colors and textures. Wallpaper  from Hang & Paste is the perfect choice for a chair rail.  The pattern isn't overwhelming because it only covers half of the wall. It also sets a sweet and friendly mood in pale blue combined with Pratt & Lambert paint in Dried Moss. I also de-cluttered the side table by moving the family photos to the wall, in an arrangement from the Design Mom blog.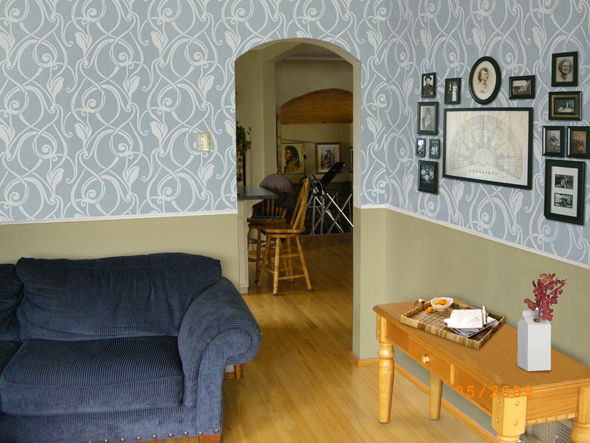 How about something bright and bold? The couch is such a dominant color in the room, a contrasting yellow wall really makes it a part of the palette. Pratt & Lamber paint in Golden Laughter and Dove White are a great backgdrop for a nautical theme. Accessories include a rustic beach print, an organized photo display, and a bright white lantern.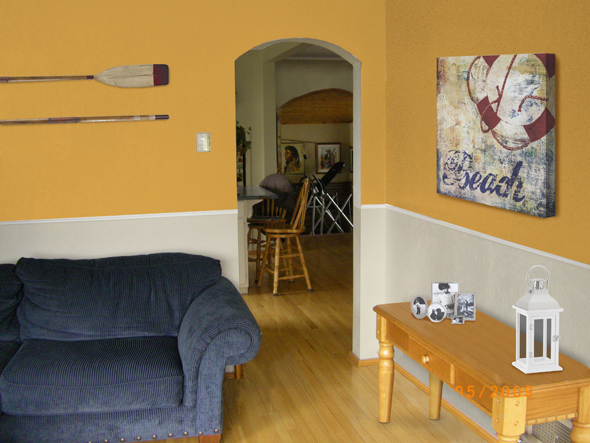 Lastly, a neutral room with a graphic touch is both modern and relaxed. I adore Pratt and Lambert's Swiss Coffee (above the chair rail) and Taupe (below). So tasteful and calm! And of course, I can't resist the wall decals. These Anise flowers from Blik are one of my favorites. For a slightly vintage feminine feel, a grouping of beveled mirrors completes the look.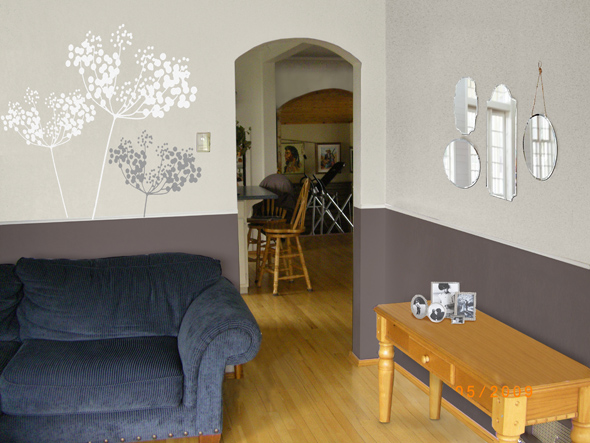 Light and bright colors can have as much impact as dark and saturated ones. Don't be afraid to lighten up!
Check out these similar posts:
Mochi Home will rock your walls!
Get access to our printable artwork sizing templates. Be the first to learn about new wall art designs.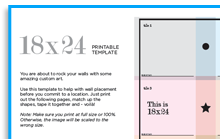 We hate spam just as much as you
New to Mochi Home?
Enter your details below for 10% off your first purchase!
You'll receive no more than two emails per week, and we hate spam just as much as you