Personalizing a Rental Studio with Color
One of the biggest obstacles in painting a rental apartment is the landlord! Quite often, you are not allowed to paint or modify the apartment in any seemingly permanent or way. One of my friends, however, actually got permission to paint her spacious studio apartment. The one condition: the paint color must be light enough that it can be covered with one coat of white paint.
Our challenge is to find a way to add some character to this one room apartment using pastels, whites, neutrals or any accessory that is non-permanent. There is a lot you can do with light colors and the right wall hangings.
First, take a look at a panorama of the entire room. Notice the livingroom to to the right, with the dining room toward the back. I like that the living area and bed area each have their own wall. This gives nice separation to the living spaces and an opportunity to create further definition by painting different colors on the walls.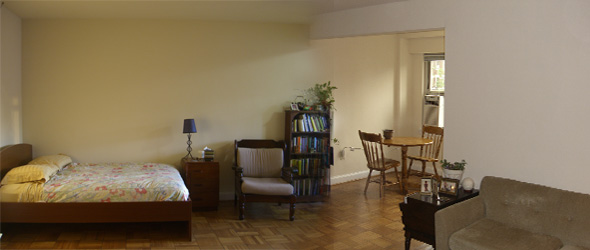 Here is a photo of just the living area. The "bedroom" wall is behind the chair and bookshelf.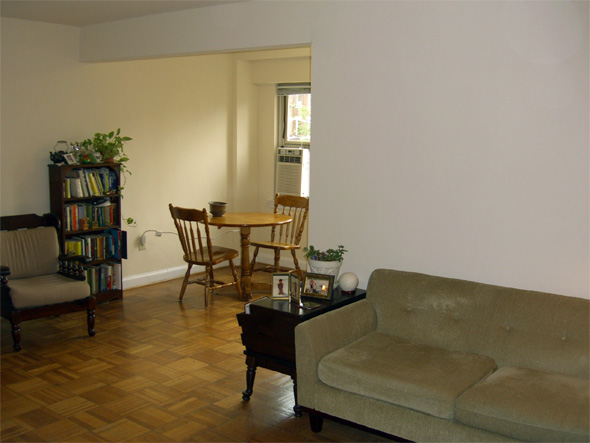 Here is a warm color scheme to compliment the neutral green couch and various warm wood colors. I think of this as a muted orange sherbert and lemon sorbet. The pastels are slightly grayed/muted to avoid looking too much like a baby's room. I topped it off with some posters from The Poster List, which happens to carry some of the coolest and most well designed posters I've seen in a while!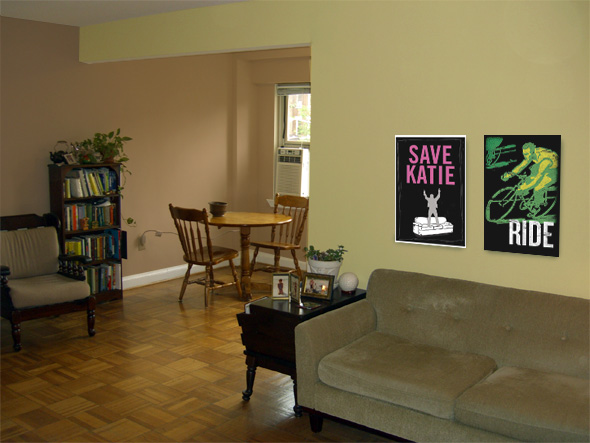 Here is a cool version using blues and grays. Sky blue is always a great option for a light color-it's friendly and happy and works well in the lightest of shades. In all of these scenarios, the living room wall is painted a different color from the bedroom/dining wall. With such light colors, I think a multi-color palette could work really well without being overwhelming.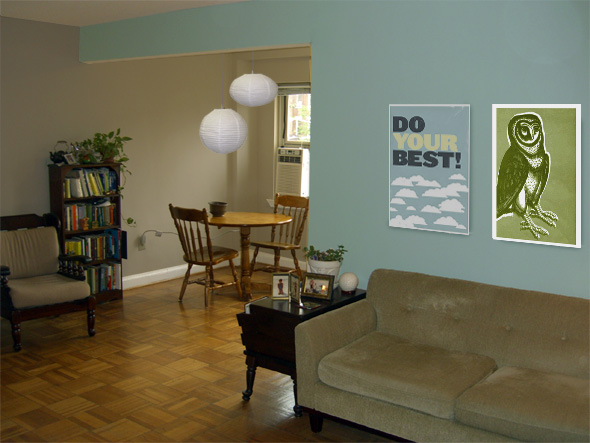 One alternative to posters and wall hangings is to paint a pattern onto the wall itself. Look how just two diagonal stripes add movement and drama in a room with no other wall hangings. Stripes like this are easy to make using blue painter's tape. You can even create this "free form" without having to make the stripes level or even.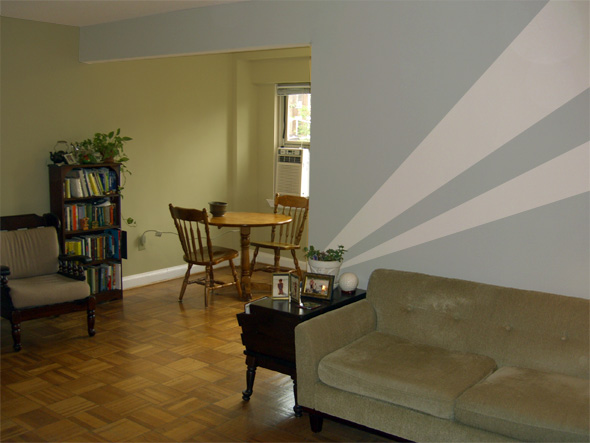 Fabric is another good way to add not only color, but also pattern. For a truly non-permanent fabric hanging, use 3M Command hooks to hang the fabric from clips or grommets. These hooks are great for rentals because they are strong AND can be removed without ruining the wall. This bold Marimekko fabric adds a lot of visual interest. With the back wall painted a complimentary neutral, the entire living area comes alive!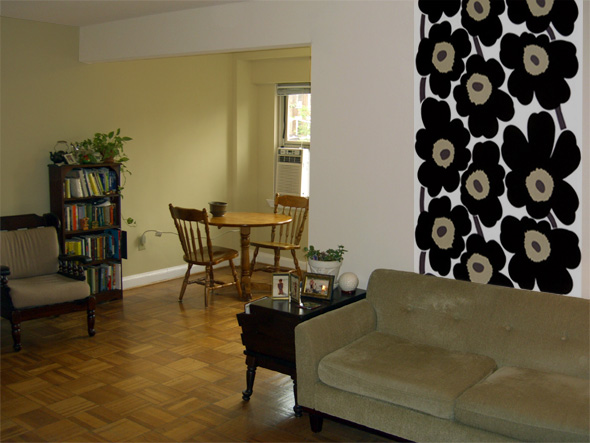 Check out these similar posts:
Mochi Home will rock your walls!
Get access to our printable artwork sizing templates. Be the first to learn about new wall art designs.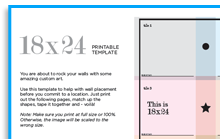 We hate spam just as much as you
New to Mochi Home?
Enter your details below for 10% off your first purchase!
You'll receive no more than two emails per week, and we hate spam just as much as you