Masculine and Modern Living Room
Women rule when it comes to home decor. Obviously there are many exceptions, but I do think that the ladies often have the final say and are sometimes more motivated to "nest" and design their spaces.
Which is why I was so excited to get this submission for, and I quote: "a contemporary manly style with a black accent wall." Sweet! Not only is it an excellent man pad, but he wants a black accent wall. Very gutsy and stylish for sure.
Here's the blank slate, a sweet brownstone with exposed brick and modern open staircase. The stage is already set for modern and manly.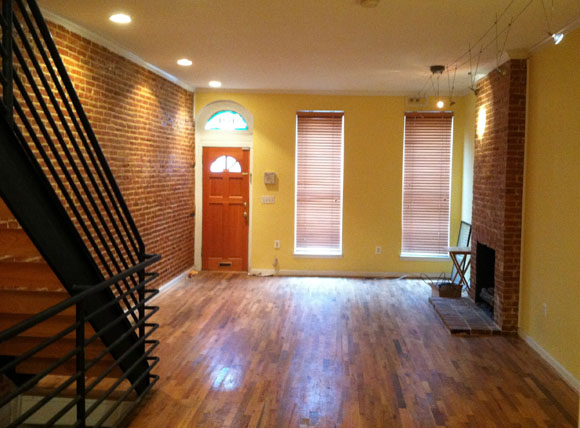 Primary Colors + Black Accent Wall = Modern Manly
Ok, I'm a girl and I love this space too. So maybe it's just modern and not girly-girl. Check out that black accent wall with the fireplace. Hot! It really anchors the room and isn't overwhelming at all. I didn't want to overload on the black, though, so grey is the main neutral for the primary pops of colors. And one very important change: to really modernize the room, the front door should be replaced with something more sleek. This one echoes the lines of the stair rail and really looks great.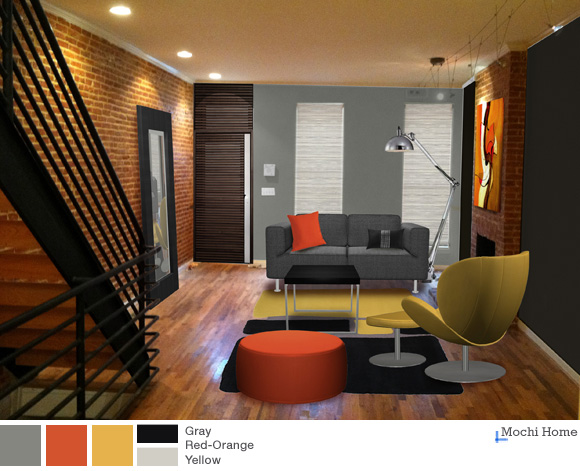 Black Ceiling + Geometric Shapes = Modern Manly
If you are willing to spring for a black accent wall, why not push the envelope even more and go for a black ceiling? What I love about black ceilings is that they literall raise the roof. The height of the room becomes indistinguishable, much like on a stage set. By pushing the edges of the room out, you bring the focus into the center – where all of the action is. It's instant drama!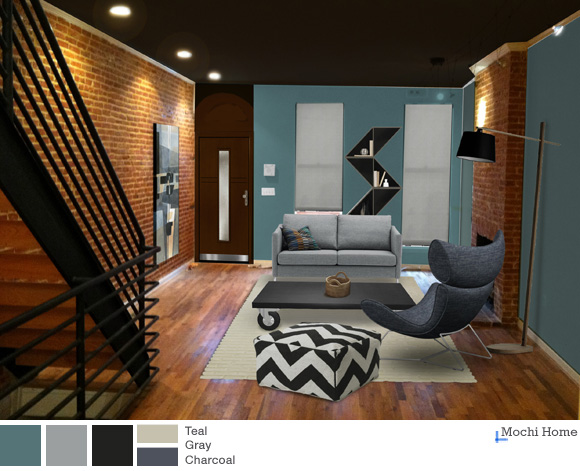 Earth Tones + Clean Lines = Manly Modern
What about a color softer than black? Deep chocolate brown goes great with the warm tones of the exposed brick and hardwood floors. The entire palette is a tasteful set of earthy neutrals punctuated by a rusty orange. These scheme is a bit softer than the previous rooms, with long curtains on the front windows and a warm wood door. It's modern and manly, with a soft touch.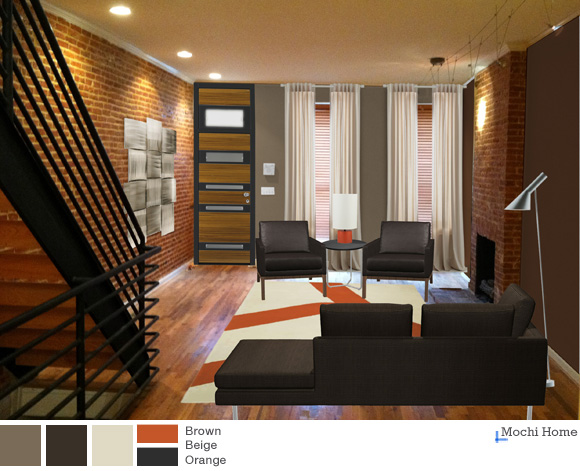 Resources
 Primary/Black Accent Wall
Valspar Paint: Dark Kettle Black, Simply Gray
Big Blocks Rug, 2Modern
Arco Sofa, Bo Concept
Yellow Chair, Bo Concept
Ottoman, Bo Concept
Coffee Table, Bo Concept
Door, Bella Porta
Roller Shade, Chilewich Chalk, The Shade Store
Art: Meeting in the Middle III
Chrome Lamp, Lamps Plus
Pillow, Chiasso
Black Pillow, Chiasso
Black Ceiling/Geometric
Valspar Paint: Flood Tide, New Black
Sofa, Bo Concept
Wall Wool Rug, 2Modern
Imola Chair, Bo Concept
Coffee Table w/optional casters, Bo Concept
Zigzag floor pouf, West Elm
Zig zag bookshelf, Bo Concept
D-A Door, Dark Mahogany, Bella Porta
Roller Shade in Gray, The Shade Store
Woody Floor Lamp, Bo Concept
Retro Modern Art
Earth Tones/Clean Lines
Valspar Paint: Rich Chocolate, Thorny Brush
Gandia Blasco Flat Wool Rug with red, 2Modern
Chair, Bo Concept
Lounge Chair, Dark Brown Sierra Fabric, Bo Concept
Side Table, Bo Concept
Devo Round Lamp, 2Modern
Front Door, Vision 01, Bella Porta
Cotton Canvas Curtain, West Elm
Louis Poulsen AJ Floor Lamp, 2Modern
Weave Wall art, Chiasso
Check out these similar posts:
Mochi Home will rock your walls!
Get access to our printable artwork sizing templates. Be the first to learn about new wall art designs.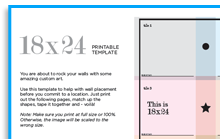 We hate spam just as much as you
New to Mochi Home?
Enter your details below for 10% off your first purchase!
You'll receive no more than two emails per week, and we hate spam just as much as you