I have some good friends who currently live in a comfortable ranch style home. All of the living space is on single floor, with plenty of room for kids, pets and friends. After a recent promotion (congrats!), my friends are relocating to the big city – Atlanta! Check out this gorgeous colonial.
Their new house doesn't just include a second story, it boasts a dramatic double-height living room with clerestory windows and an open staircase. They want to keep this front room more adult friendly, as a place to gather for cocktails before or after dinner. The paint color also stays, as does the flooring (good call).
Let's see how we can transform this cavernous room into an elegant hangout.
A Southern Lounge
This is the perfect corner for a modern sectional, which really sets the lounge mood. A flower burst rug and trunk coffee table, keep a warm, friendly vibe. Industrial lighting and retro artwork give the "speakeasy" feeling. I would definitely relax here with friends.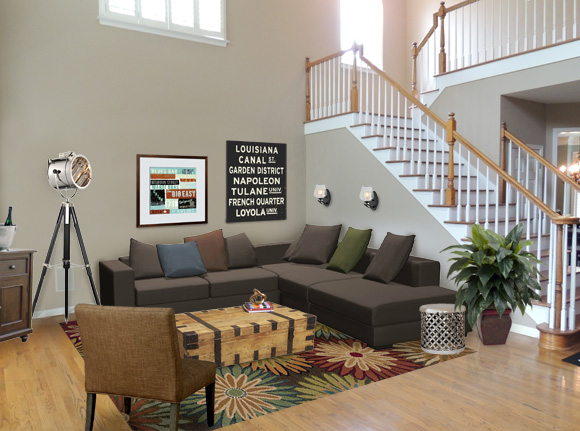 Cozy and Bright
Here is lighter and brighter room that ties into the crisp white trim and neutral walls. A gel fuel fireplace with wall-t0-wall bookshelves gives an instant focal point to the large space. The oversized plaid chairs have clean modern lines, but give a nice men's club feeling. They also offer a nice contrast to the organic rug pattern. I would certainly cozy up with a hot toddy.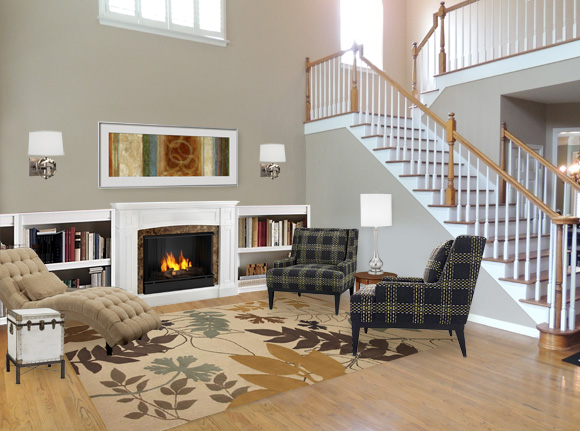 Modern Eclectic
This option is a little funky, but I wanted to show a space that was both modern and friendly. The foundation of the room, the couch and rug, are simple brown. It's the fun play of patterns that gives this room life. With some quirky pillows and custom wall art, I can see both adults and kids kicking back in this room.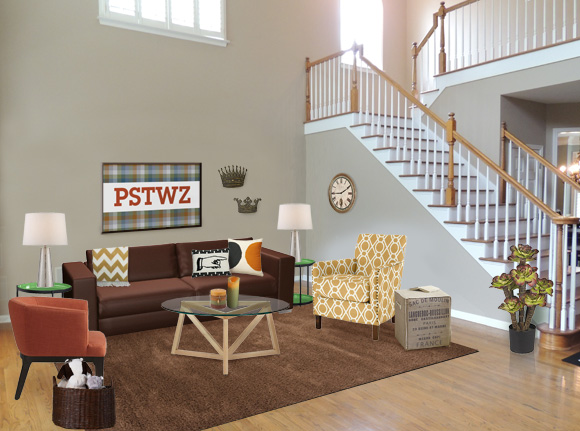 Resources
Southern Lounge
Cozy and Bright
Modern Eclectic
Check out these similar posts:
Mochi Home will rock your walls!
Get access to our printable artwork sizing templates. Be the first to learn about new wall art designs.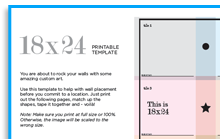 We hate spam just as much as you
New to Mochi Home?
Enter your details below for 10% off your first purchase!
You'll receive no more than two emails per week, and we hate spam just as much as you