Green, Blue and Red for a Little Living Room
These homeowners recently gave up the house boat lifestyle in favor of some new digs on shore. And what fun it is to make this cozy cottage "home." Even though it's a serious square footage upgrade from their former boat, this living room is still on the small side. Here are three great ideas with carefully selected pieces to keep this room functional and fun.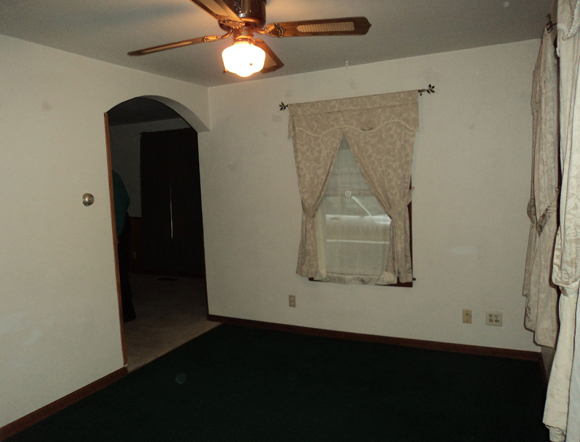 Green Stripe Wallpaper
It's hard to see in the photo, but this room has a dark green rug. Until the owners are ready for a renovation, they'd like to decorate around it. I think their best bet is to lay down a big area rug, both to lighten the space and give it some texture. Light green is fresh and happy, especially with contrasting details like the Paris Metro sign. My favorite piece, though, is that couch. Specifically named "Apartment Sized Couch" it's a perfect way to add adult sized seating to a small space.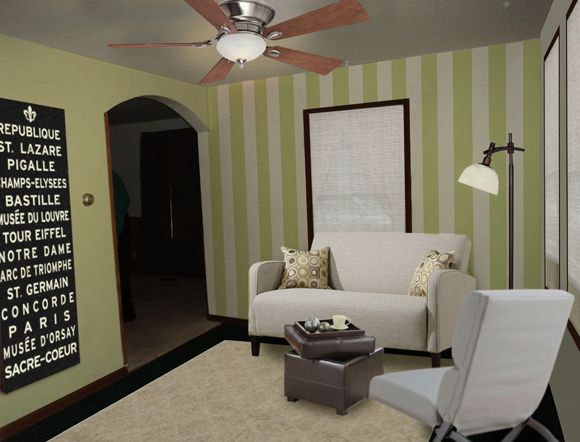 Nothing But Blue Skies
Sky blue is one of my all time favorite colors. It's soothing and flattering whether it's gray-blue, green-blue or purple-blue. You almost can't go wrong with any shade of sky. The sectional couch is the trickiest part of this option. Despite the small space, a modestly-sized sectional could provide all of the seating in the entire room. By hugging the outer walls, it gives almost a built-in bench effect (much like on a boat!) and it helps to open up the center of the floor.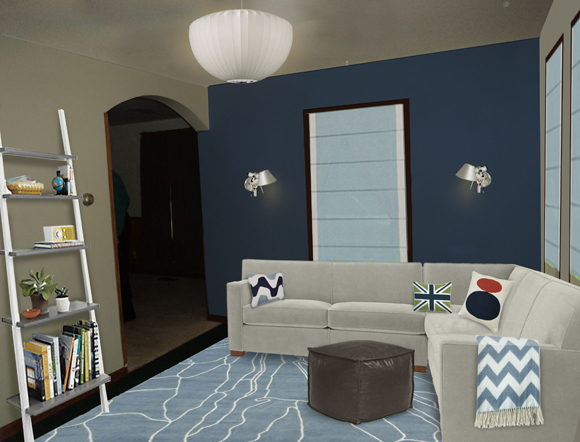 Vintage Nautical
Lastly, a nautical-inspired option in case our owners are missing the open seas. This is a vintage style, men's club boat theme – complete with a cozy red accent wall and club chairs. A few unique pieces like a nautical wing chair, steamer trunk table and wine barrel ceiling light give this room tons of character.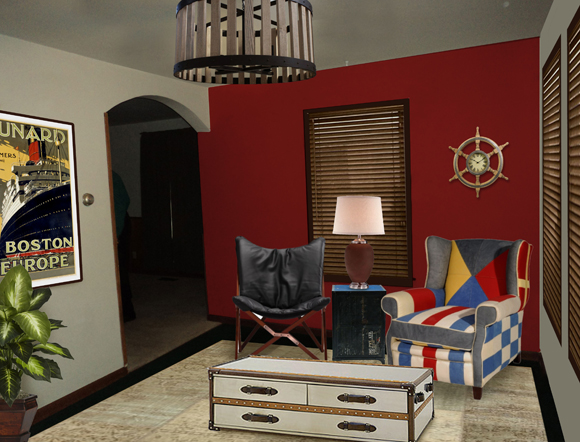 This small space has loads of potential. The main points to make this room sing: light area rug, remove the heavy curtains in favor of shades, and appropriately scaled furniture. From there, the sky's the limit!
Sources
Green Striped Wallpaper
Wall Color: Behr, Celery Sprig
Nothing But Blue Skies
Wall Color: Behr, Twilight Chimes, Castle Path
Vintage Nautical
Check out these similar posts:
Mochi Home will rock your walls!
Get access to our printable artwork sizing templates. Be the first to learn about new wall art designs.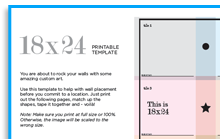 We hate spam just as much as you
New to Mochi Home?
Enter your details below for 10% off your first purchase!
You'll receive no more than two emails per week, and we hate spam just as much as you