This month's Dwell magazine has a nice summary of the best eco-friendly paints on the market. I'll let you read their article for the details. In the meantime, I'll "try out" some colors from the various brands.
First, we start off with a living room.  As a note, in our before photo, the walls are painted using Benjamin Moore Eco-spec paint in Tundra. At the time of painting, Eco-spec was the best low-VOC paint on the market from Benjamin Moore.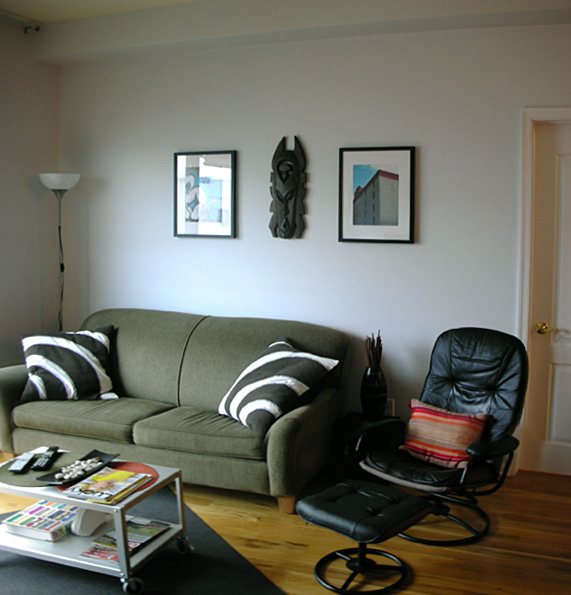 As detailed by Dwell, Benjamin Moore now offers an even better option-their Natura line of paints. Natura is a zero VOC product and is available in all of the fabulous Benjamin Moore colors. Benjamin Moore is available at various paint retailers and hardware stores. Your best bet is to check their retail locator.
Here we try out Fresh Butter from the Color Samples collection.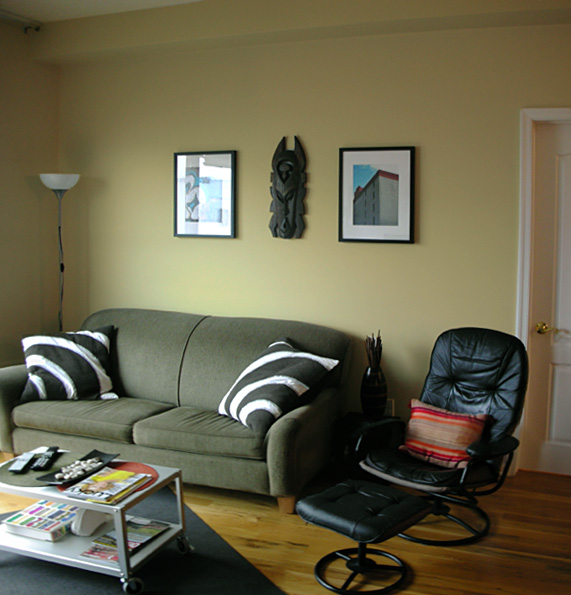 Below-Benjamin Moore in cheery Blue Daisy.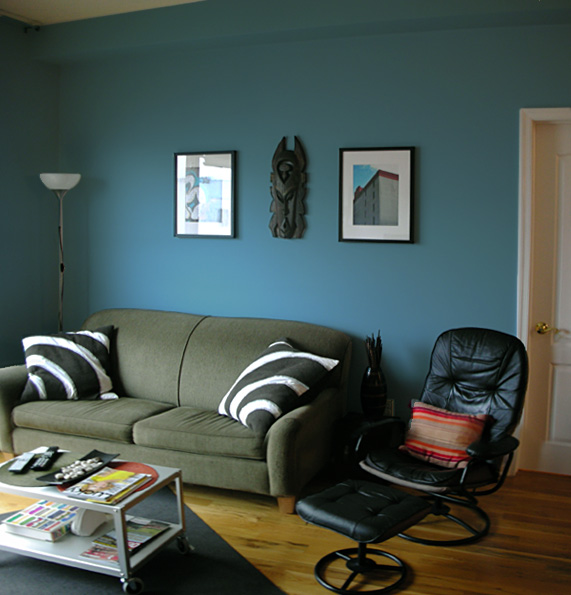 I had never heard of Yolo until I read the Dwell article. It looks like Yolo is available at various green building stores, but check their store locator.
Yolo has a very tasteful and well curated palette. Below is Stone 06.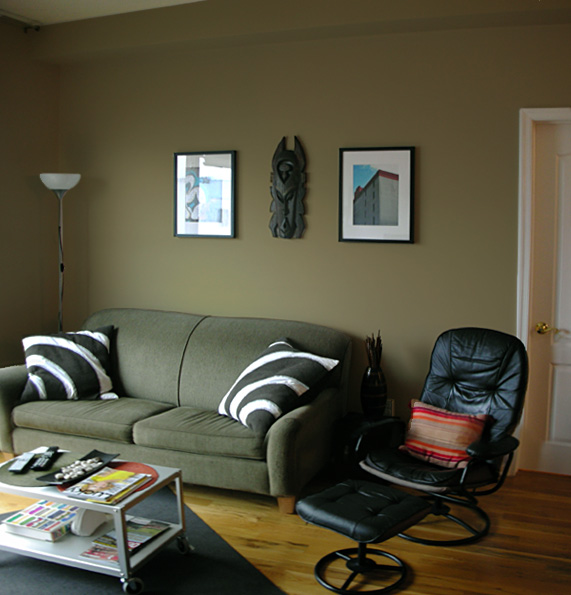 I love their deep neutral earth tones. Here is Stone 07.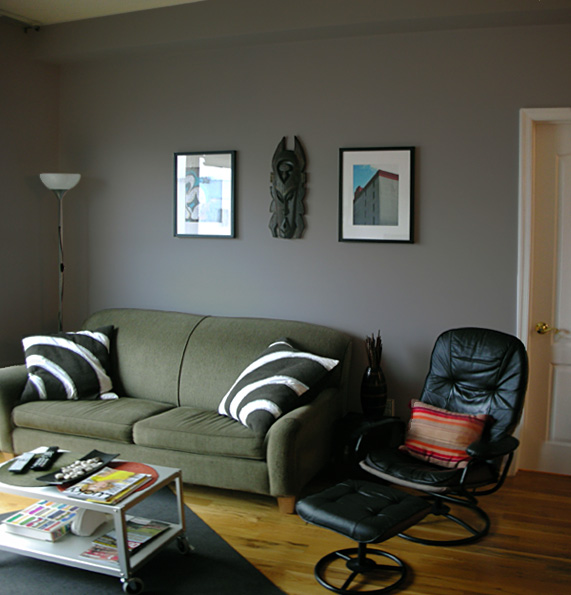 Safecoat also has a nice limited palette, though I had trouble navigating to it from their site. Rather than using the typical earth element theme, Safecoat uses Ayurveda to categorize their colors into a system of healing and meaning. I'm always a sucker for Eastern philosophy! Safecoat, like Yolo, is available at specialty retailers or through contractors.
A bright juicy green called Pitta Day.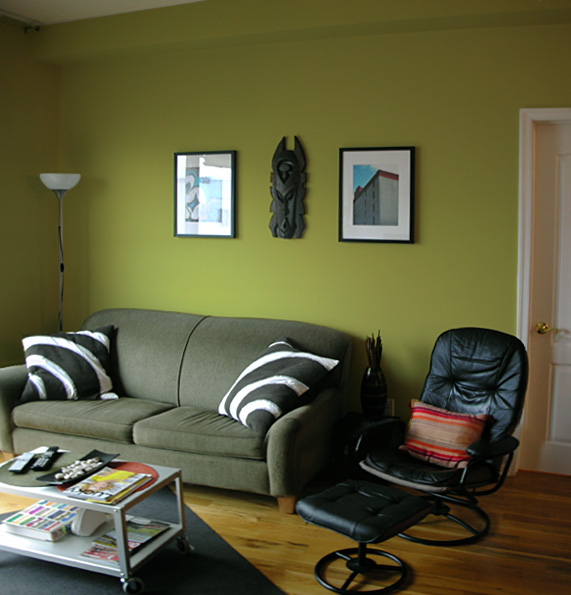 I always love yellow, and this is especially nice as it dips into the orange spectrum. This color is Vata Landscape.
No need to play it safe with color just because it's safe for you and the planet. I find the Mythic color palette very user-friendly and the retro graphics are charming. Mythic doesn't seem as widely available as other brands (at least here in NYC), but the dealer locator will confirm.
I love-love-love any shade of Terra Cotta and in almost any context. Below, the Mythic version called Moroccan Clay.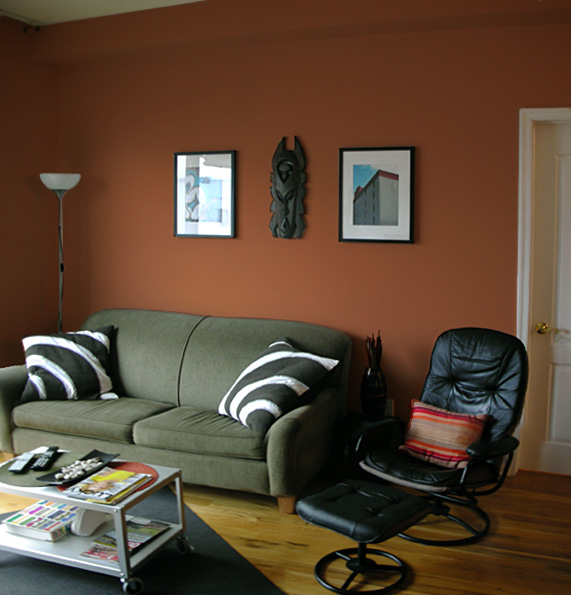 I'm also quite enamored by deep aqua teals, which are my favorite beachy jewel tone. Here is Emerald Bay.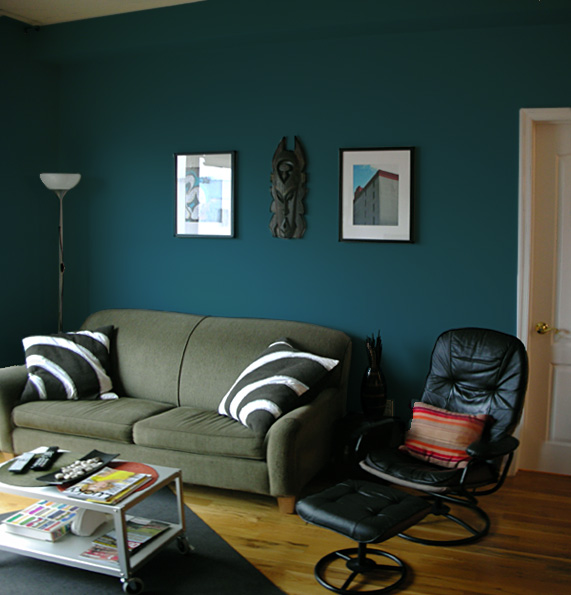 There's really no excuse for not using eco-friendly paints. They are healthier for you, your family and for the planet. Plus, the paints are widely available and comparable in price to their chemical laden counterparts. Lastly, and perhaps most importantly, these paints come in a full spectrum of colors from the softest whites to the deepest shades of earth and jewel.  It might be time to update my own living room!
Check out these similar posts:
Mochi Home will rock your walls!
Get access to our printable artwork sizing templates. Be the first to learn about new wall art designs.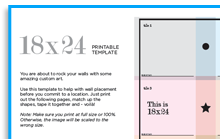 We hate spam just as much as you
New to Mochi Home?
Enter your details below for 10% off your first purchase!
You'll receive no more than two emails per week, and we hate spam just as much as you