A Splash of Color and a New Home Office
Last month I attended the Apartment Therapy Offline Design Meetup. The theme of the meetup was group design therapy and together we helped fellow New Yorkers find a cure to their apartment woes. You can read all about one apartment here. It was so much fun to brainstorm as a group and I got lots of ideas for my own apartment. Mostly, I was impressed by how friendly and open-minded these design enthusiasts and Apartment Therapy readers are.
One reader asked me for some help visualizing her ideas and the ideas from the design meetup. She and her husband are renovating their apartment to accommodate both a home office for two people and a new baby! Below, are some visualizations, which hopefully help them narrow down their options.
Here is their existing apartment:
The first thing you'll notice below is the floor-to-ceiling built-in home office where the exposed brick used to be. Their plan was to turn that corner into the office. I tried this built-in as a suggestion, which included shelves and some nice lighting. With this in place, I added some earthy accents which include walls in olive green and celery. Next, I threw down a complimentary rug from Flor in the Fret Knot pattern. Flor rugs are really practical (especially for kids!) as you can clean or replace individual tiles and the rubber backing makes them slip resistant.
As for furniture, there are some pieces with clean lines, but a welcoming spirit including the Quinn chair and Reese couch from Room and Board. I always love to finish off a room with some hand made accessories from Etsy. This chunky and colorful bowl from finishes off the look.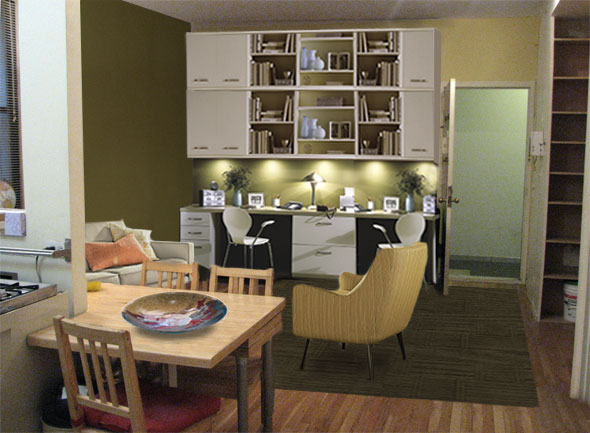 Keeping the same base, here is blue version of the living room. I darkened the cabinets of the home office, added a blue wall and brought in some darker woods to compliment. To keep the room from getting too dark, however, notice the light cream Delta chair with the white checkerboard Flor rug. I love how this rug makes the room look so fresh! Lastly, this interesting Petal bowl brings the blues into the dining area.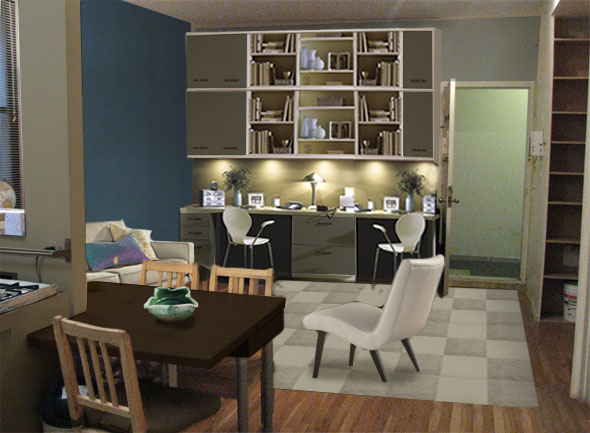 I love this bold palette of orange-yellow, black and white. The orange wall really pops and give some fun personality to the room. The wall is particularly striking with the geometric Flor rug. In this scheme it's best to keep furniture and other accessories to a minimum or the small space will be overwhelming. A simple black chair, white cabinets and a grey kitchen keep the focus on the rug and wall. And of course, I couldn't resist these adorable bowls.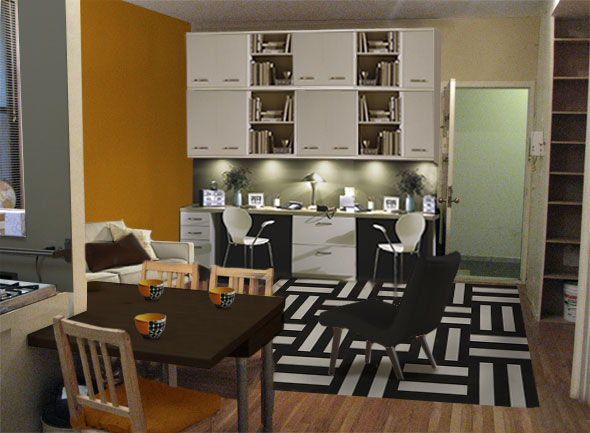 Lastly, a soothing combination of warm gray and jewel-tone teal. Here, the color is actually on the cabinet doors and the main wall recedes as a backdrop. Instead of a huge rug, there is a plush brown ottoman, which can serve as a footrest, a table, extra seating or even a play object for kids. Ottomans are great multi-taskers and a good option for flexible multi-use spaces.  I did add a small mat at the front door for wiping your feet and finished the room with a lovely original watercolor.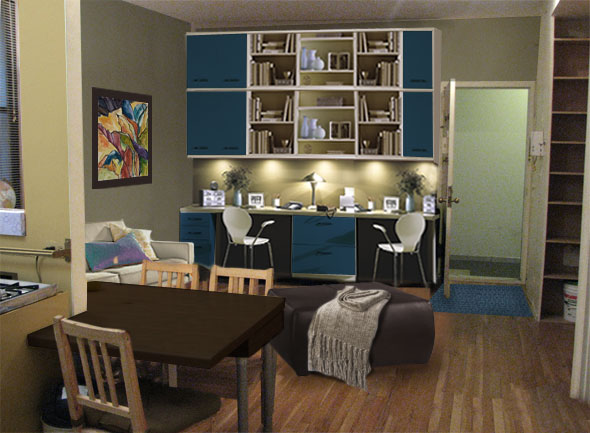 This apartment has great potential as functional space packed with uses and stylish space for a young family to call home. We wish them best of luck with their renovations and new additions!
Check out these similar posts:
Mochi Home will rock your walls!
Get access to our printable artwork sizing templates. Be the first to learn about new wall art designs.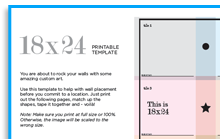 We hate spam just as much as you
New to Mochi Home?
Enter your details below for 10% off your first purchase!
You'll receive no more than two emails per week, and we hate spam just as much as you