3 Easy Steps to Ditch the Boring Brown
Perhaps my headline is a little harsh, because I actually love brown. It's warm and cozy, acts as a neutral, but can range from yellow to red to purple and beyond. Brown is beautiful!
However, it is possible to have too much of a good thing. This reader moved into a rental home with brown couch and accessories in tow, only to realize that the walls and floors were also brown/beige. She's limited in what changes she can make to the space and would also like to keep the budget small. I have a simple 3-step plan that will take this room from brown overload to an interesting, inviting space.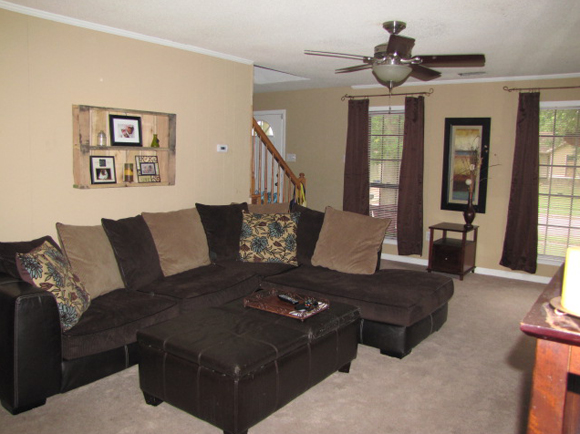 3 Easy Upgrades
To make the biggest impact on the smallest budget, I recommend three things for this room:
Accent wall behind the couch (paint or wallpaper)
Window treatment (get rid of the heaving brown)
1 or 2 simple accessories (rug or pillow in a light or white color)
That's it! Everything can either stay or just be removed. Taking a closer look at the room, the couch pillows are new and nice. The ottoman is a bit heavy, but I know it's functional and comfy. There is some nice simple art between the windows. The only thing I would remove/hide is the knick-knack shelf behind the couch. Swap that out in favor of something bigger, bolder and more of a focal point.
Lovely Teal
All it takes is one easy accent wall picking up the blue-green from the pillows. To bring this room out of the dark, crisp white curtains add contrast and lightness, as does the focal point art. Easy!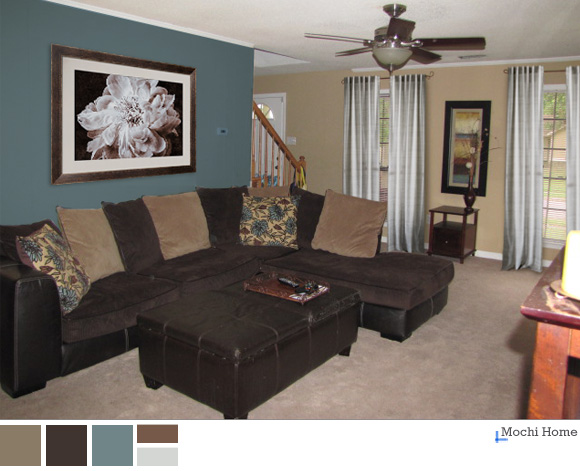 Pattern Power
This amazing re-positionable wall paper is perfect for a quick rental upgrade. I like this sweet flower pattern, which feels a little whimsical in the otherwise heavy room. Again, a few white accessories add contrast and freshness. Done!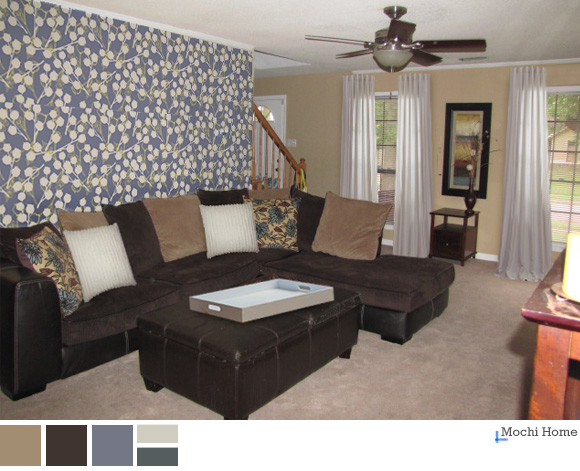 Distinguished in Stripes
I love stripes. Stripes can be either casual or elegant/traditional, but either way, they always dress up a space. To keep with the clean lines of the wallpaper, the curtains are replaced with an easy roman shade. Removing all of that fabric gives instant lightness to the room. Texture is also a great way to keep a space interesting and the neutral jute rug fits nearly any style.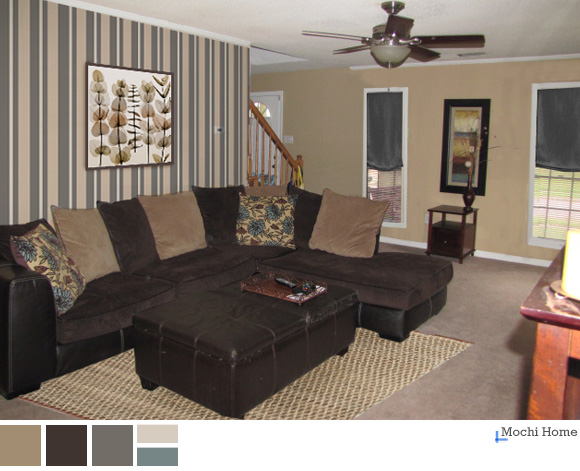 It is so possible to be beautiful on a budget AND to personalize your rental. Go for it!
Resources
Teal
Pattern Power
Stripes
Check out these similar posts:
Mochi Home will rock your walls!
Get access to our printable artwork sizing templates. Be the first to learn about new wall art designs.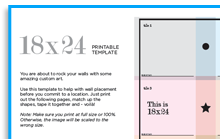 We hate spam just as much as you
New to Mochi Home?
Enter your details below for 10% off your first purchase!
You'll receive no more than two emails per week, and we hate spam just as much as you