20 Best Selling Paint Colors from Benjamin Moore
You know I love dreaming about paint color, and if I could, I would probably repaint my house once a month – just for fun. But that's crazy, so I'll settle for the next best thing – visualizing some paint color with digital renderings!
Benjamin Moore has always been one of my favorites. And no, they aren't paying me to write that – it's just a brand that I've used myself over the years and has always delivered great results. As I was poking around their website, I noticed you can filter the color chart* to show the top selling paints. Interesting! It looks like people love soft neutrals, but I was surprised at how much red was in the best seller list.
Inspired by this new paint color knowledge, I made a quick comparison chart of 20 paints. Maybe it will help you narrow down the choices for your own paint job.
*Please note – this chart changes, as it's a reflection of what sells. For example, since making my visual, the Paddington Blue is not on the list. (But a lovely shade of Hunter Green now is).

Check out these similar posts:
Mochi Home will rock your walls!
Get access to our printable artwork sizing templates. Be the first to learn about new wall art designs.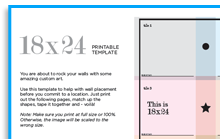 We hate spam just as much as you
New to Mochi Home?
Enter your details below for 10% off your first purchase!
You'll receive no more than two emails per week, and we hate spam just as much as you