Your Wall Art is the Wrong Size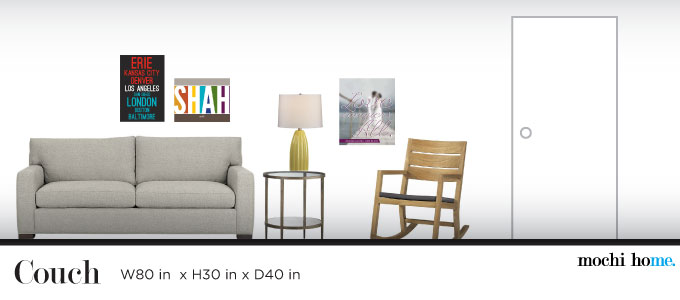 I've seen it in photos, I've observed it in real life and I'm also guilty of it. Nine times out of ten, decorative wall art is the wrong size. It's usually too small and is often hung too high.
It's an honest mistake that happens for many reasons. One big problem is our inability to visualize size. It's hard to imagine what something will look like on the wall and even harder to visualize the proportions. I've designed, hung and arranged a lot of wall art — and I STILL get it wrong much more often than you would think!
Fix Your Existing Art
Here are three strategies to fix what you've already got.
1. Give your art some buddies
This is easy – make a grouping or a gallery wall. Wall art loves company. A little group of 3 framed prints in different sizes is super easy, as you don't need to be exact about lining them up. You can also make a clean gallery grid with art of the same size. Don't limit yourself to frames and prints. Hang up your favorite trinkets too, like masks, plates, necklaces, keys, bud vases, etc. There's loads of inspiration on Pinterest.
2. Get a new (bigger!) frame
Reframe your art into a bigger size. I love this idea to not only make your art proportional, but also to give it some added pop. A thick frame or a wide matte can add instant art drama and will make your piece look more substantial and expensive.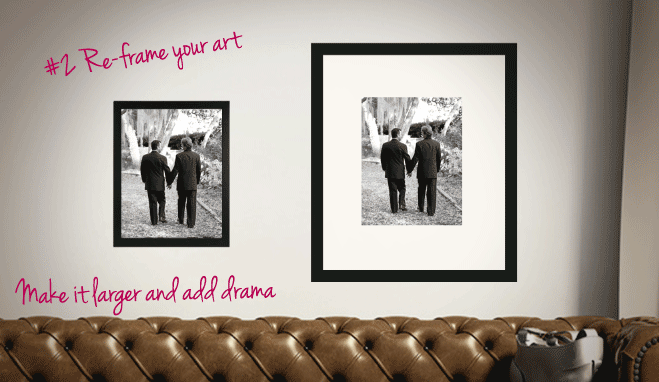 3. Don't leave art stranded
Even a good gallery wall can backfire if you leave your art stranded in the middle of the wall. In general, artwork should be slightly closer to other furniture, rather than farther. It's a small tweak that can make a big difference.
Start with the Right Size Art
Whatever size art your choose, your main goal is to achieve balance. You can do this with one large piece of art or several smaller pieces. Just keep in mind the overall size of your room, the wall and the surrounding furniture.
Below are some diagrams to help you visualize standard art and frame sizes. Measurements noted are in inches. (Give me a holler in the comments if you'd like a metrics version!)
Need more help?
Design your gallery wall with our miniature wall art cut-outs. It's like paper dolls for for artwork. When you you're ready for more, use the full-size templates to try out your arrangement directly on the wall! We've totally got you covered for a no-surprises wall art extravaganza.
Just sign up below we'll email you a link to the templates, which you can save for current and future wall art.
Sign up here to download the free templates:
Artwork Sizing Diagrams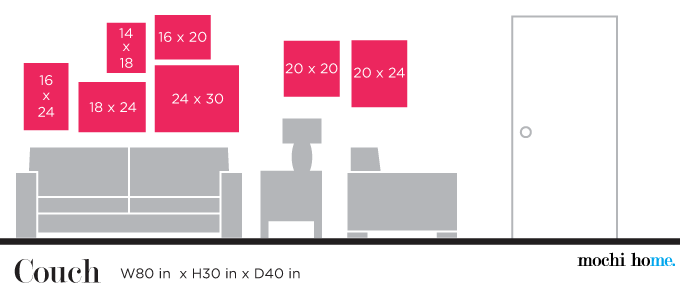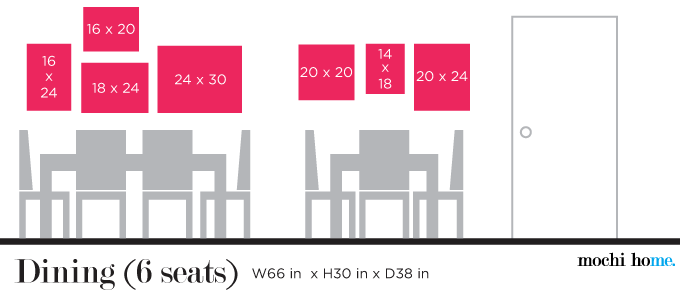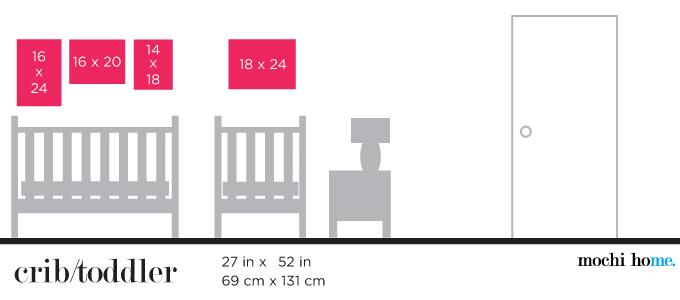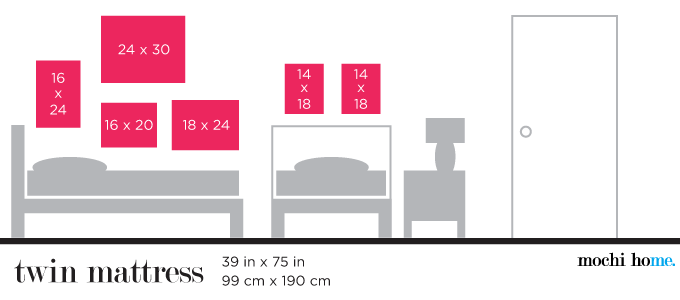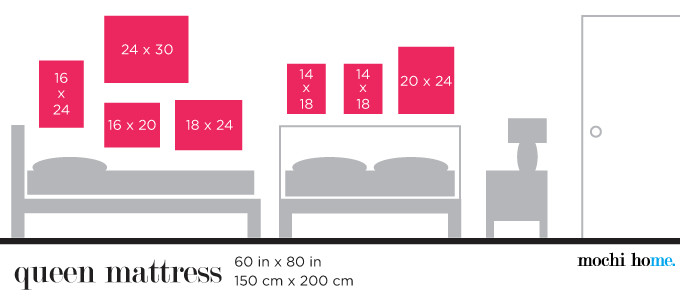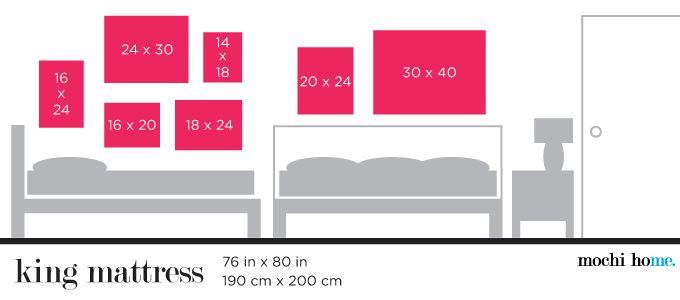 Need even MORE help?
If you've made it all the way down here, then you must be designing some serious feature walls! We do occasionally give virtual makeovers to customers and readers (which we then post on the blog). Drop us a line with a photo of your wall and we'll try to help you visualize some new art! Or, ask a question in the comments below.
Good luck!

Check out these similar posts:
Mochi Home will rock your walls!
Get access to our printable artwork sizing templates. Be the first to learn about new wall art designs.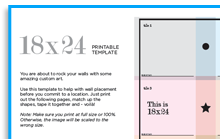 We hate spam just as much as you
New to Mochi Home?
Enter your details below for 10% off your first purchase!
You'll receive no more than two emails per week, and we hate spam just as much as you