I *Heart* Mochi Home Readers
Just a quick Happy Valentine's Day and a little love for those of you who stop by Mochi Home. Thanks for reading and thanks to all who have submitted their homes for makeovers.
Valentine's Day is typically a holiday for couples of all kinds. Here are some lovely home decor couples for inspiration and celebration.
Check out these similar posts:
Mochi Home will rock your walls!
Get access to our printable artwork sizing templates. Be the first to learn about new wall art designs.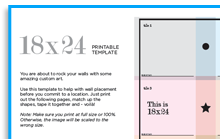 We hate spam just as much as you
New to Mochi Home?
Enter your details below for 10% off your first purchase!
You'll receive no more than two emails per week, and we hate spam just as much as you