Save Your Stuff with a Home Inventory
Resolution #4 of our New Year's post is to create a home inventory. In its simplest form, an inventory is a list of everything you own. But we want to add some details to your inventory so that it's a useful, living document. Your home inventory is most helpful for insurance purposes, should you need it. It can also help you keep track of items for servicing, parts or re-ordering, etc.
At a minimum, your inventory should include:
Name of item
Description
Year purchased
Cost
I also like to include a few other notes such as:
Warrenty info
Serial number/ID number
Spare parts (such a water filter for the fridge)
Photo of item
Online Resources
Insurance companies provide lots of online resources for setting up a home inventory. There's really no excuse not to get it done! Here are few you can use that are free of charge and often include iphone/ipad apps:
These are few basics to get you started, but if you look online, you'll find lots more free and paid options. Choose something based on your needs. For example, here's a great program for cataloging your electronics and media, Delicious Library 2. Or, if you need a full blown software solution for your PC, try Collectify. And if you need to manage stuff for multiple properties, StuffSafe has you covered.
Low-tech
For those of you who what to stay low-tech, try using a simple excel spreadsheet or even a handwritten inventory. It's better than nothing! Download this checklist from the Minnesota Department of Commerce or try our own Mochi Home Inventory Spreadsheet.
Check out these similar posts:
Mochi Home will rock your walls!
Get access to our printable artwork sizing templates. Be the first to learn about new wall art designs.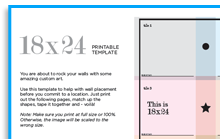 We hate spam just as much as you
New to Mochi Home?
Enter your details below for 10% off your first purchase!
You'll receive no more than two emails per week, and we hate spam just as much as you